What is a Custom Kitchen?
The kitchen is considered one of the most critical parts of a house. It must be safe, functional, and spacious according to the household's needs. The term "custom Kitchen" is used when the owner decides about the design, material, and measurements. It's clear that a professional can step in and help you in the decision-making process.
We design your desired kitchen according to your needs with the best possible materials, here at Cavalli. Custom Kitchen gives you the chance to design the cabinetry in any measurement, making it an ideal choice for corners with unusual shapes.
You can choose among a wide range of materials, but the solid wood is the most popular choice since it is long-lasting and allows you to transform it in the future.
Semi-custom cabinets are considered between Custom and Stock cabinets both in price and manufacturing process. Semi-custom cabinets are built after you submit the order. The designs are limited but you can expect a good quality.
1.Designing the Cabinetry
Cabinetry is the main element of your kitchen as it's the most functional part of the kitchen. There are numerous designs, from modern to traditional. In a custom kitchen, as it can be acknowledged from its name, you can decide on the measurements, material, quality, and quantity of the cabinets as you want.
The cost would differ based on your chosen material, but it can be estimated in advance. When it comes to Cabinetry, the measurements must be precise, and it is critical for the spacing to enable smooth mobility around the kitchen.
At Cavalli, we obtain your ideas and desires and suggest the best option based on your budget, space, and prerequisites. We always use high-quality material and never think of second-best options.
2.Customizing Counters and Backsplashes
Kitchens are multifunctional spaces, so when choosing your countertops and backsplashes, don't forget that they have to be multifunctional too. If you cook a lot and use the countertops a lot, choose tough materials, so you don't have to be extra careful all the time and worry about damaging the surface. While considering different materials think in terms of durability. Keep in mind that
not only you need a surface to be resistant, but also you want the countertops to stay appealing to you over the years as your taste evolves.
Granite and quarts are tough and durable, but while manufactured quartz comes in a wide range of patterns and needs less maintenance, natural granite's patterns are unique and might stain.
Another option for your custom kitchen's countertop is laminate. Although the price is lower, it can be scratched and stained easily.
By choosing the right backsplash, you can add colors and texture to your kitchen but remember to think long term and select the texture you still enjoy looking at in 10 years.
3. Material for the Floors
For Many Families, the kitchen is the most walked-on place. The reason is that it is a place where they can come together. When picking your custom kitchen flooring, there are essential tips to keep in mind to ensure your floors can stand up to years of wear and stay in good condition throughout time.
Durability is the most critical factor; whether it is your pet's scratch or dents from dropping different objects, we can't stop these so-called accidents from happening. Even by watching our every movement and making life harder for ourselves, these damages are inevitable. So it is wise to be prepared by choosing a floor with generous wear-layer.
Ceramic tiles, wood, marble, and stone are some of the options for flooring.
4. Choosing Appliances
There's a wide range of appliances to select from for your unique kitchen. You might be overwhelmed when you start shopping for kitchen appliances. The measuring plays an important role here. Height, depth, and width must be measured carefully to make sure your new appliances are going to fit.
You can narrow down your options by looking online and then making the final decision on the showroom floor.
If you choose all your appliances from the same manufacturer, the finishes are going to be the same, but it is not a must, and the decision is up to you and, of course, your budget. You can choose the appliances that you use more often from more expensive brands with higher quality.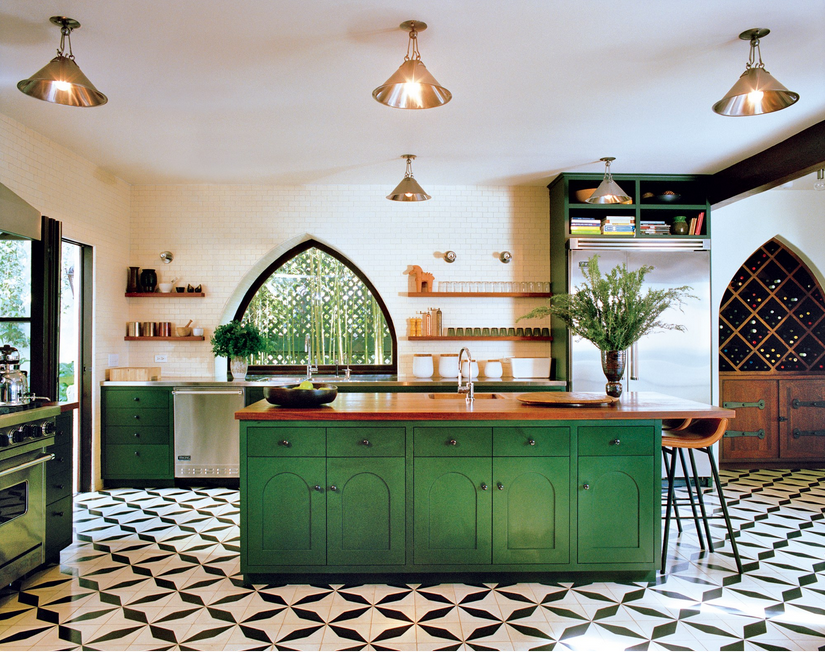 5.  Deciding on lightings
Make sure that your task lighting down and there is enough ambient light in the kitchen to make it user-friendly. Most of the time, the valence hides the electrical work like you have halogen pot lights.
Pot lights must be placed at a reasonable distance from each other, depending on the kitchen. Not too far apart from each other and not too close to each other. Also, if you want to install a dimmer, talk to an electrician to choose the right one.
6. Serving and storage
The kitchen island provides you with more space for serving, placing your gadgets and storing your stuff. Having enough space to organize our dishes and tools freely, gives us peace of mind. When it comes to customizing your ideal kitchen, you have the control, so if possible, try to add a kitchen island.
Consider the space around your island. You need circulation space around it to walk comfortably and open appliance doors. If you want to have seating at the kitchen island, you'll need to increase the depth of your countertop. You can cook on the island by placing the stove on it or you can choose to do the dishes there by installing a sink on the island. Kitchen islands are the opportunity for a great burst of color and style.
After taking all the points we said into consideration, remember that the best kitchen is the one that works best for you and it differs from person to person. Details to decide on are overwhelmingly a lot, but the journey would be pleasing and fun with a professional by your side. With the help of an expert, you can avoid the waste of money and time. Here at Cavalli, we can help you choose the best material for your custom kitchen.