There is no question your reception desk design is the focal point of your office's waiting room, which allows your guests to feel welcome and your receptionists to feel comfortable all day long.
Unsure of what features you are looking for in the new waiting room desk? Read on to find out which options you need to consider when seeking new lobby furniture.
What is the best size for the reception desk design?
The size of the reception desk should be selected based on the size of the waiting room. It means, for a small space, a compact lobby desk with a small footprint that is designed for one receptionist at a time is perfect. Clearly, for a larger waiting room, you will need a bigger waiting room desk because a small desk in a large space makes it seem disproportionate.
For most offices, small or large, modular waiting desks are ideal and allow you to configure a workstation perfectly.
What is the best shape for a reception desk?
Reception desk furniture comes in a variety of shapes and designs. For instance, a single-surface waiting room desk has only one writing surface for the receptionist and one transaction counter for guests to write on.
We recommend a straight or curved waiting desk in the appropriate size for the waiting area. Please note that in restaurants and other hospitality settings, smaller versions are very common.
U-shaped desk types (with straight or curved edges) include a 3rd work surface for the receptionist. However, the straight or curved edges of U-shaped desks are often used in the large waiting room and by two or more receptionists at the same time.
Round types have a circular or curved shape that is commonly used in large waiting rooms to be the center of all attention.
The ADA reception desk design, on the other hand, is to accommodate those guests who are in wheelchairs, and the maximum height is about 36 inches.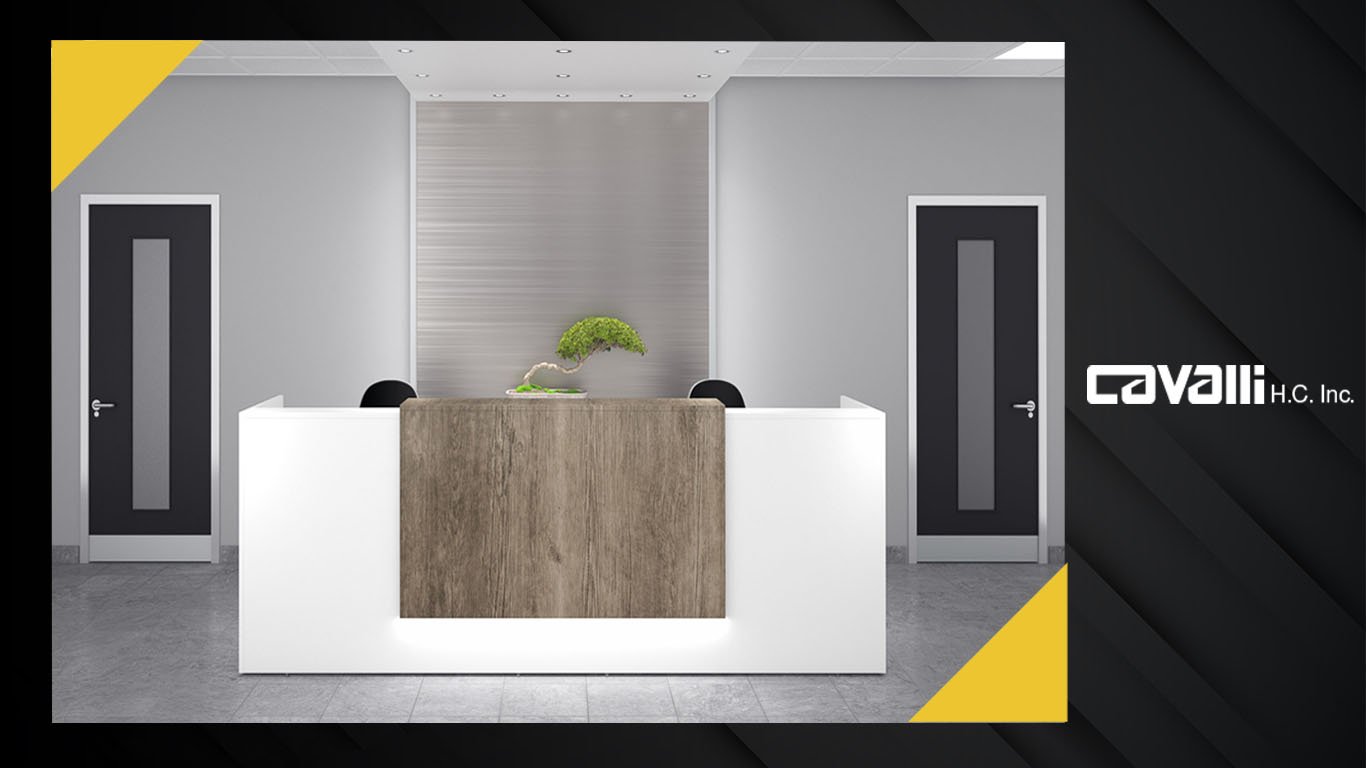 Which are the best materials used in the reception desk furniture?
Here are the most popular options for the waiting room desk:
Laminate
Laminated desks are an affordable option that is made of a special form of particle board with or without a wood grain that looks like real wood. These types are perfect for crowded and high-traffic offices since they don't scratch easily and their maintenance and cleaning are relatively easy tasks.
Wood veneer
If you want your reception desk in the front office to look like a real wood design, but you wouldn't like to pay too much for solid wood furniture, veneer desks are the best option. They have a similar appearance to laminate furniture, with the slight difference that they have a thin layer of real wood on their counter.
Please note that cleaning and well-caring of veneer desks are more difficult than laminated ones, but their appearance seems much richer, so many offices prefer to use them.
Metal desk
Most metal-front desk designs have a metal framework with wood or glass on top for more stability and aesthetics. They are available in all metals. However, the majority of them are made of steel in various sizes and with chrome or powder-coated finish.
Glass desks
The surface of these types is composed of tempered glass (that is almost impossible to shatter) complemented by a metal framework. You can easily clean them, but they show fingerprints. If you have a problem with showing fingerprints, you can choose the one with a wood counter and with a glass inlay instead of a full glass counter.
How can I design the reception desk?
There are many considerations that you should consider in designing a waiting room desk. First of all, the size of it is the most important; it should be large enough to accommodate all paperwork and supplies but not take up too much space.
The other essential aspect is to choose a professional desk with a sleek, contemporary appearance and a color that matches the rest of the workplace décor.
Lastly, you need to consider which types are budget-friendly and meet your needs. There are many different options like U-shape, L-shape, and curved desks that you can choose from based on your needs and budget.
Should we place the reception desk at the entrance door?
Absolutely yes! The orientation of the front desk design is one of the most significant aspects. Placing the front desk at the entrance door makes it visible to all who enter the office. This approach allows better interaction between the staff and guests and, consequently, a more welcoming and inviting office atmosphere.
How can I decorate the reception desk more beautifully?
The reception counter design is the first impressive thing that customers see when walking into the office, so it's crucial to make a good impression. Here are a few tips to help you decorate your desk in the best possible way.
• Keep it clean, uncluttered, and organized.
• Add a few personal touches, like a vase of flowers, to make it more welcoming.
• Use your company colors or logo to show off your brand.
• Opt for functional and stylish furniture with enough space for all the necessary tasks. The style ought to harmonize with the overall office décor.
The best height of the reception desk design
Although there is no standard height, there are some general guidelines to ensure you choose the right height for all your needs.
The ideal height for a waiting room desk is between 29 and 34 inches off the floor to ensure people of all heights have easy access to the desk. However, the ideal height size for the small office reception counter design is about 28 inches, allowing the receptionist to sit comfortably while still being able to reach the counter easily.
Requirements for the front desk design
It's better to choose a counter with no more than 36 inches of height and minimum width and depth of 36 inches for easy access to people who are in wheelchairs. Also, the front desk should have some features like lowered countertops and adjustable-height transaction windows to make it easier for people with disabilities to access.
Furthermore, it's important to place the reception desk in easily accessible locations to clearly mark and sign its locations for visitors.
Where to look for the best reception desk design for an office in Toronto?
If you are seeking the best office reception counter design for sale in Toronto, visit the Cavalli Home website and let us help you choose the best lobby furniture for your business.
All our front desks are available in different sizes, shapes, colors, and styles, allowing you to create customized lobby furniture to make a significant impact on your customers. We will work with you to find the best and most budget-friendly design and style that shows the image of your brand in the best possible way. Don't hesitate to contact us if it is always the best option that satisfies you.