A vanity unit is one of the most important features in designing a new bathroom that frequently combines a sink, mirror, and countertop. If you want to create a stunning look, choosing the right color is essential. Here, you are going to learn more about the different types and styles of these units.
What Is Exactly a Vanity Unit?
A vanity unit is a piece of furniture that is designed to provide additional storage, hold the basin, and conceal the plumbing.
Many people that know a little about bathroom aesthetics think that bathroom vanity units are unessential elements. But the truth is, if you choose the right bathroom furniture, you will transform your space attractively. Otherwise, it can easily make your space cluttered and messy.
There are many different bathroom furniture and sink options available today. To stay up-to-date when designing your new bathroom, interior designers advise choosing neutral hues for your bathroom furniture to keep it in style and on-trend for many years to come.
Choose muted greys, whites, blacks, and neutral hues for a minimalist and stylish look. Wood finishes are also very popular for modern vanity furniture these days. Many people think that the idea of using neutral colors in modern bathroom design is boring, however, neutral furnishing units and their contrast with wall tiles can create a stunning and eye-catching look. Moreover, when you use neutral colors, you can add a few bold elements without the risk of having a garish-looking bathroom.
Differences between bathroom vanity units and bathroom cabinets
Though not all bathroom vanities are considered cabinets, all bathroom cabinets with a sink on top are referred to as vanity units. Please note that the term "vanity" only applies to bathroom sink cabinets, so if a bathroom cabinet has no top sink, you cannot refer to it by this name.
Bathroom Vanities include a sink and supporting storage that hides exposed plumbing to keep everything looking neater and more organized. They are occasionally quite sleek, mostly hiding the plumbing and having little storage space. In some instances, they will include a large cabinet or perhaps a wall-to-wall arrangement.
Do the bathroom cabinets differ from the kitchen cabinets?
Although the style, finish, and installation of kitchen cabinets and bathroom cabinets appear to be identical, there are some differences:
Kitchen cabinets are deeper; they are typically 24 inches deep, while bathroom cabinets are 21 inches deep.
The kitchen cabinets are higher; the standard height size of kitchen cabinets is 36 inches, while bathroom cabinets are about 30-to-32 inches.
Different Types of Vanity Furniture
Before choosing a vanity set, make sure it harmonizes with the rest of your space and lifestyle. Determining the amount of storage space you need, the desirable shape, and accessibility will help you choose the best type to fit your bathroom.
Freestanding set
This type is the common and traditional type (with one or two sinks) that rest on the floor, secured to the wall through mounting screws. These types are available on the market in various colors and stylish designs.
Wall-mounted or floating vanities
This type mounts directly to the wall rather than the floor and is a great option for a clean look and saving floor space. It also provides additional space for items like organizers and baskets.
Corner set
This type of furniture is perfect for a small bathroom that provides the required storage and encourages you to be more adaptable with different bathroom projects.
Console set
The console set is a great choice if you are looking for an open-concept bathroom. It provides an airy and simple look for those who want a modest design and don't like a large cabinet filling their space. The console set cabinet has a single sink vanity or double sink cabinets with different ranges (24-to-72 inches).
Different shaped vanity units
Your vanity, as the focal point of your bathroom, represents the overall aesthetic you want for your area. Here, you are going to learn about its different shapes and styles.
Art Deco design.
The Art Deco style is a type of shaped vanity bathroom that emerges from a modern style and emphasizes contrasting colors and natural wood grains for a bold and striking design. It is derived from the geometric patterns with glossy finishes of the furniture style of the 1920s to 1930s. This style is opulent, glamorous, and versatile and works well with either lighter or darker powder rooms for a dramatic look.
Bohemian Style
Bohemian Style is all about the impressive combination of texture and color that will become the focal point of your room and matches well with a cohesive space and neutral bathroom elements.
Farmhouse style
*The farmhouse style creates a warm and inviting atmosphere in your bathroom, which is available in different colors with a single or double-sink for extra counter and storage space.
Cottage Cabinets
The Cottage styles are the other types of shaped vanity units that combine delicate carvings, bead-board, and louvered panels to embrace the classic farmhouse-style appeal. The soft and neutral color of this style works well with weathered or painted hardware.
Craftsman Shaped
A modern vanity bathroom is a perfect option for a contemporary bathroom remodel since it has straight lines, a simple style, and clean features. These units come in a variety of colors and materials, such as aluminum, stainless steel, metals (like solid bronze, brass, or even iron for an artisan look), and solid woods such as oak.
Glam Style
Glam-style bathroom vanity units are available in various colors, from green to blush, that provide additional storage due to several drawers and express your creativity by combining and matching a modest countertop or décor and door options with fun-colored finishes.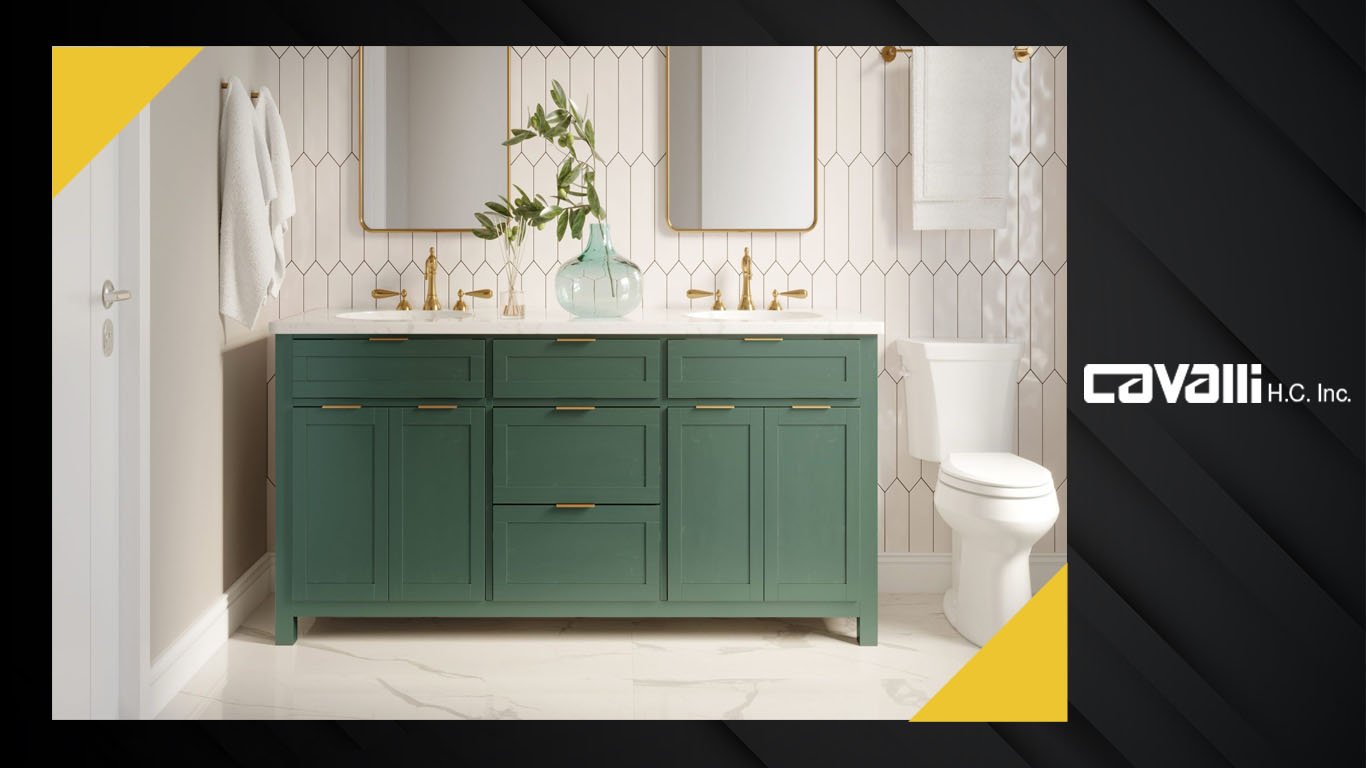 Industrial Style
The industrial style is a kind of modern appearance that works well with rustic and minimalist styles. A combination of natural and manmade elements in industrial-style creates a sleek statement piece in the washroom.
Traditional Units
This style embraces all the features that we would find in a classical design and is painted or stained with a variety of colors, from white hues to brown. Traditional units encompass more ornate details like scalloped edges, turned or cabriole legs, and other intricate hardware designs.
Shaker units
The most significant features of the shaker design are slim, simple, and gentle lines with tapered legs and no ornate details. They are totally clean, consisting of lighter-weight wood such as pine or maple.
Organic Style
If your bathroom has a cozy atmosphere, choose organic-modern-style knits, clean lines, and neutral palettes with natural texture. Please note that if you are seeking a minimalist design, the organic unit cabinets cannot beautifully match the style you are looking for.
Other types of bathroom cabinet shapes
Coastal style
Rustic style
Mid-century modern style
Modern units
A Different Shaped Vanity Sink
In addition to needing to decide whether you would like a single bowl or double bowl cabinet, you will also need to choose which type of sink is suitable for your bathroom cabinet. Most bathroom cabinets work with specific kinds of sinks, so it is crucial to know which type of cabinet is suitable for your chosen sink or which kinds of sinks work well with your bathroom cabinet.
Under-mount sink: Under-mount sinks are the most common type that is suitable for most bathroom cabinets and typically consist of porcelain or copper in either rectangular or oval shape, mounted underneath the counter.
Vessel Sink: A vessel sink is the other type of vanity sink that sits on top of the counter and is available in different shapes, materials, and colors. Please note that it is not a good choice if you have small children because its height is relatively high.
Semi-Recessed Sinks: These sinks leave the top half of the sink exposed, they sit halfway into the counter and thoroughly blend between the under-mount and vessel sinks. They are the perfect option for those who don't like the height of the vessel sink.
Integral or Tough Sink: Integral sink tops, often referred to as trough sink tops, combine a countertop and sink into one unit. These seamless-looking sinks are often made of white porcelain, various kinds of stone, or even concrete.
shaped vanity mirror
A bathroom mirror is an essential part of a vanity bathroom, and while being very functional, brings style to your bathroom.
Lastly,
Cavalli Home is the place to go if you're looking for a designer vanity in Toronto and offers a wide range of bathroom cabinet units to suit a variety of bathroom styles and designs.
Moreover, you can count on us if you need guidance to have a stylish, stunning, and glamorous bathroom.