Classic kitchen designs are flexible and simple layouts that are neither too ornate nor too impersonal because of their timeless features, minor details, and neutral color palettes. This style can go well with every décor and meet a wide variety of tastes, budgets, and styles.
Here are some logical elements and tips to give you inspiration for creating a great classical kitchen.
Classic Kitchen Design 2022
Classic kitchen cabinets
Cabinets play a great role in creating the classical kitchen. They have a functional and timeless appeal that brings warmth to the space. Their doors are uncomplicated shaker-style without obsessive ornateness.
Classic white kitchen cabinets
Classic white kitchen cabinets are a good idea to implement the classical white kitchen style.
If you want to build a darker kitchen, you will need to use white cabinets more strategically to create a beautiful contrast. In any case, regardless of your kitchen style, classic white cabinets are always a stunning option.
Delicate and elegant details
Sometimes, you don't need to do anything special or spend a lot of money to create a completely different and unique look; rounded-edge countertops can simply give you the look you're after.
Some people confuse the classic style kitchen with the traditional one. Please note that in the classical style, ornateness (which defines a traditional style) is not a requirement. However, in the classical style, encompassing some features of the traditional style like paneled walls, crown molding, and even kitchen islands' legs, are normal. But there is a delicate point here: these features are different from the traditional style thanks to removing the frills that evoke a particular era.
Adding an edge to your countertop
If the rest of your kitchen has taken on a boxy, straight-edged look, like most modern classic kitchen designs, you can add a full bullnose edge to your countertops to create a delicate and still simple appearance in the classical style.
Keep your kitchen light and bright.
In a classic kitchen, the key point is to keep it simple and fresh, rather than dark, complicated, and traditional. So, if your countertops are dark, try to use light colors for the rest of your kitchen to create a modern-classic kitchen design.
Make a distinction.
When it comes to kitchen classics and classic cabinets, everyone wants to stick to white. However, with a little creativity, you can create an elegant contrast like stainless steel appliances, dark flooring, and black cast quartz countertops to offset the overpowering all-white kitchen. We recommend incorporating different, lighter hues into your kitchen, like creamy stone countertops or even white countertops with grain, to create a more beautiful and pleasant look.
Don't forget the décor and appliances.
Remember that classic kitchen appliances, rugs, fixtures, chairs, and decorative art pieces should not only match the style but also enhance the space.
Classic Kitchen vs. Traditional Kitchen
Painted cabinets with or without glass front doors, plain granite or laminate counters, and hardwood floors are common features of traditional kitchens. The traditional style incorporates historical features and classical elements while still leaving space for the gathering of family or friends. Flexibility is the keystone of traditional style. However, it most often relies on a simple design with a few bold accents, like a white kitchen with black granite countertops, a bold red kitchen island, etc. You can even include modern or industrial elements (like boldly painted walls or unique lighting fixtures) into your traditional style to freshen up the look.
On the other hand, classic kitchens tend to have timeless characteristics, subtle accents, and neutral color palettes Instead of being dark, intricate, and archaic. Creating a classic modern kitchen design will be much easier if you stick to a light color palette with sporadic dark accents. Please note that in this style, flooring, countertops, cabinets, hardware, backsplash, and layout are more important features.
New Classic Kitchen Design Ideas
Try to incorporate the following aspects into your design plan to create an amazing and functional kitchen:
Cabinets: As mentioned above, a simple shaker cabinet door has a great impact on the classical kitchen style. You can also add a modest amount of bead molding to the interior panels of cabinets to liven up a plain space. Moreover, white cabinets are always the perfect option for a classic-style kitchen.
Flexibility: When it comes to the classic kitchen, versatility is more important. For this purpose, you can mix bar stools and lighting, conventional bar stools and lighting, or industrial lighting to transform your kitchen into something different.
White Subway Tile: We recommend using 2*6 or 2*8 or 2*4 inch tiles if you are seeking a twist on the standard size (the standard size is 3*6 inches). Always remember that the grout color has a crucial effect on the aesthetics of your kitchen. You can also use white marble instead to create a fantastic classical kitchen.
Use White Marble Countertops: Carrara and Calacatta are two common types of marble that are frequently used in classical kitchen styles, especially in countertops. Even though they require a lot of care, they have such lovely looks that you can't help falling in love with them.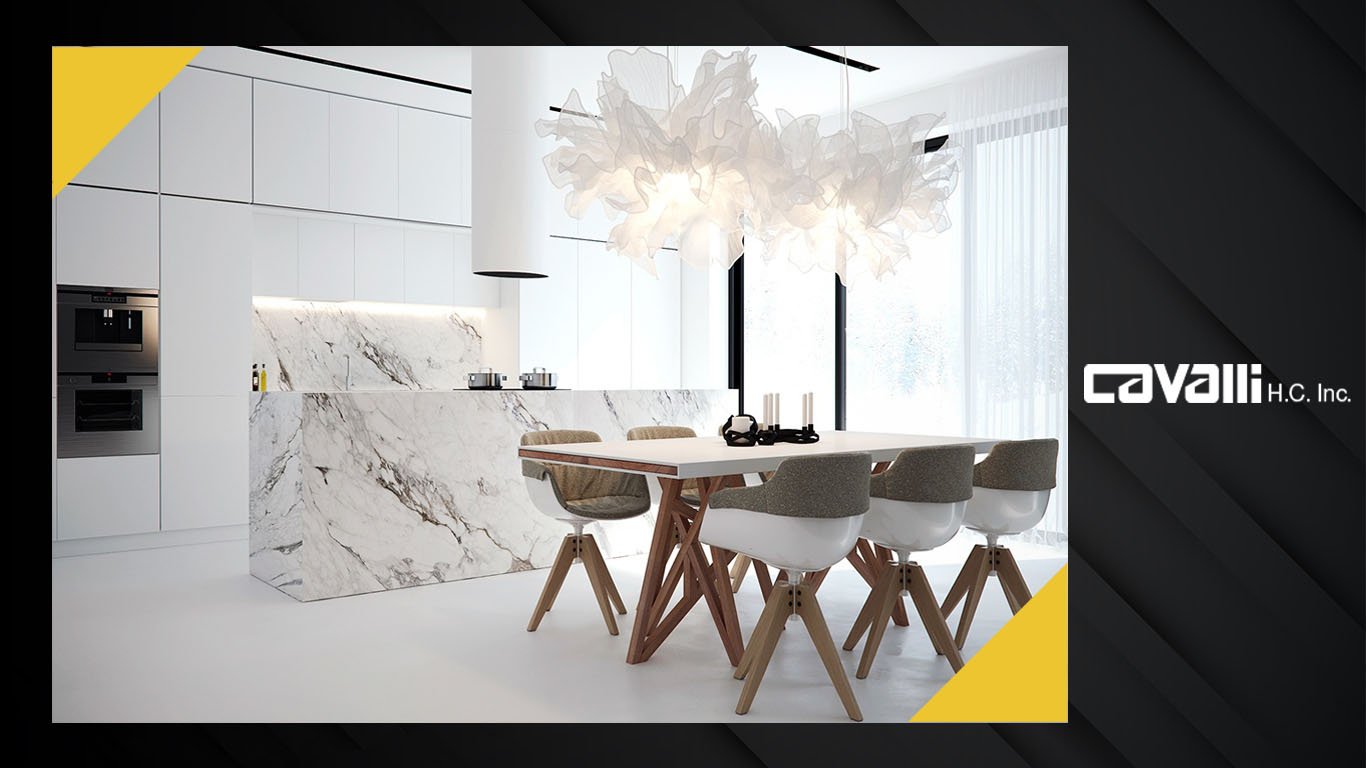 Some Timeless and Beautiful Colors for the Classical Kitchen Style
Blue and gray are timeless neutral colors that will never go out of style.
Tans and browns, the magnificent and elegant touch of metallic tones, make your kitchen atmosphere warm without being too dramatic.
Yellow is the ideal color for being cheerful and light. Try using it with blue, green, or white to tame it.
Signature red and white are two of the best colors for classic kitchen designs, and their combination creates a surprisingly refreshing look.
The combination of warm orange and deep brown is a daring and bold statement of fierce personality and style.
The basic white and cool gray scheme also provides countless opportunities to showcase accents, like greens, a bouquet of vibrant flowers, a bowl of fruit, or brightly colored dinnerware.
Natural earth hues; these tones are minimalist, chic, and uncomplicated, and they speak volumes about design and functionality.
Clean white is the never-out-of-style, contemporary, and sensible color for classical kitchen style.
Whites on wood; the warm color of wood balances out the stark white and adds amazing details to an otherwise uninteresting room.
Black and brass. Dark kitchens reflect elegance, sophistication, and a strong personality, and when combined with brass touches, make a stylish, unique, and interesting design.
Modern rustic. You can always rely on natural and beautiful wood grains and balance them off with stone and steel implements to create your own unique classic kitchen.
Other appropriate colors and tones for a classic kitchen design
The chic, cool, and classic combination of blue, white, and gold
Black and white is a timeless, lovely, sophisticated, and elegant color combination.
Bright, perky, and zesty citrus kitchen style that will erase the darkest moods.
Classic white kitchen with blue and silver accents
All shades of gray, like pewter, dark gray, concrete, steel gray, slate, and blue-gray.
A combination of orange and navy blue
The cool and charming shade of blue
A sophisticated, impressive, and luxurious combination of white, gold, and green.
FAQ
What is the most popular classic cabinet color?
Wood is one of the most suitable materials for classic kitchen cabinets. The best colors for classical kitchen style are generally white, cream, or beige, allowing for maximum flexibility when it comes to hardware, accessories, and other flourishing design.
Is gray a good choice for kitchen cabinets?
Classic gray cabinets are one of the most popular and favored choices for many interior designs. This neutral color has a wide variety of tones, from warm to cold, that makes it easy to combine with various backsplash designs, appliance finishes, and countertop materials.
Whether you have traditional farmhouse kitchens or contemporary kitchen styles, gray works well with nearly all styles and cabinet designs.
In the end,
Are you still looking for a place to provide the best, elegant, zesty, perky, and chic classic kitchens in Toronto? Don't you think Cavalli is the place that can meet all your needs and satisfaction?
So, please feel free to contact us if you have any questions about the classic custom kitchen. Our professional team will be happy to answer all your questions and offer the most reasonable and cost-effective options to have a classic and dreamy kitchen.