Partition walls consist of glass, brick, wood, etc., and are used for dividing space from another room. They are one of the crucial components in a building's design, without which we cannot decorate a property. They can also be foldable, collapsible, fixable, thick, thin, heavy, light, etc.
Below, you are going to learn more about these partitions.
Various Kinds of Partition Walls
Room dividers are the best choice for buildings with multiple rooms to keep the privacy and services of each space. The types of partitions highly depend on the building's material and design.
Here are the different types of these separators:
A brick partition wall
Brick walls are economical and popular due to their raw materials and stretcher bond. They are unbreakable, durable, environmentally friendly, and recyclable, with plastering on both sides.
Brick partitions have three types: reinforced brick partitions, brick nogging, and plain brick partitions.
Brick partitions also have disadvantages:
Their construction takes a lot of time.
You cannot use them in seismic zones.
Cleaning them is challenging.
Plain brick partition wall
It is a common type of brick partition divider manufactured from plain bricks.
The placement of bricks in cement mortar should be as stretchers.
The thickness of plain brick partition separators is half a brick (around 10cm).
For construction in a day, the maximum advised height is 2m.
It has plastered on both sides.
They are fortified, sturdy, and fire-resistant if they are built properly.
The reinforced brick partition walls.
Though the reinforcement partitions are similar to plain bricks, they are much stronger than plain bricks.
Every third or fourth course, reinforcements are placed in front of wire mesh strips or iron bar.
The thickness of the reinforced wire strip is approximately 1.6mm, and its width ranges from 25mm to 28mm.
The diameter of the steel bar is about 6mm.
These partitions are used in low-tech construction. They do not necessitate shuttering or concrete.
Clay brick partition dividers
They are built from clay, terracotta, or earthenware and can be hollow or solid.
Usually, we use hollow clay bricks for lightweight partition separators.
Mortar is poured over the blocks.
The hollow brick partitions are rigid, stiff, sturdy, fire-resistant, sound-proof, heat-proof, and economical.
The hollow blocks' sizes vary depending on the material's texture.
These partitions' thickness ranges from 6cm to 15cm.
The brick hollow partition structure is similar to the load-bearing wall structure.
Concrete partition wall
Concrete partitions consist of a simple or reinforced concrete slab laterally supported by vertical elements. The slabs can be either cast in situ or precast.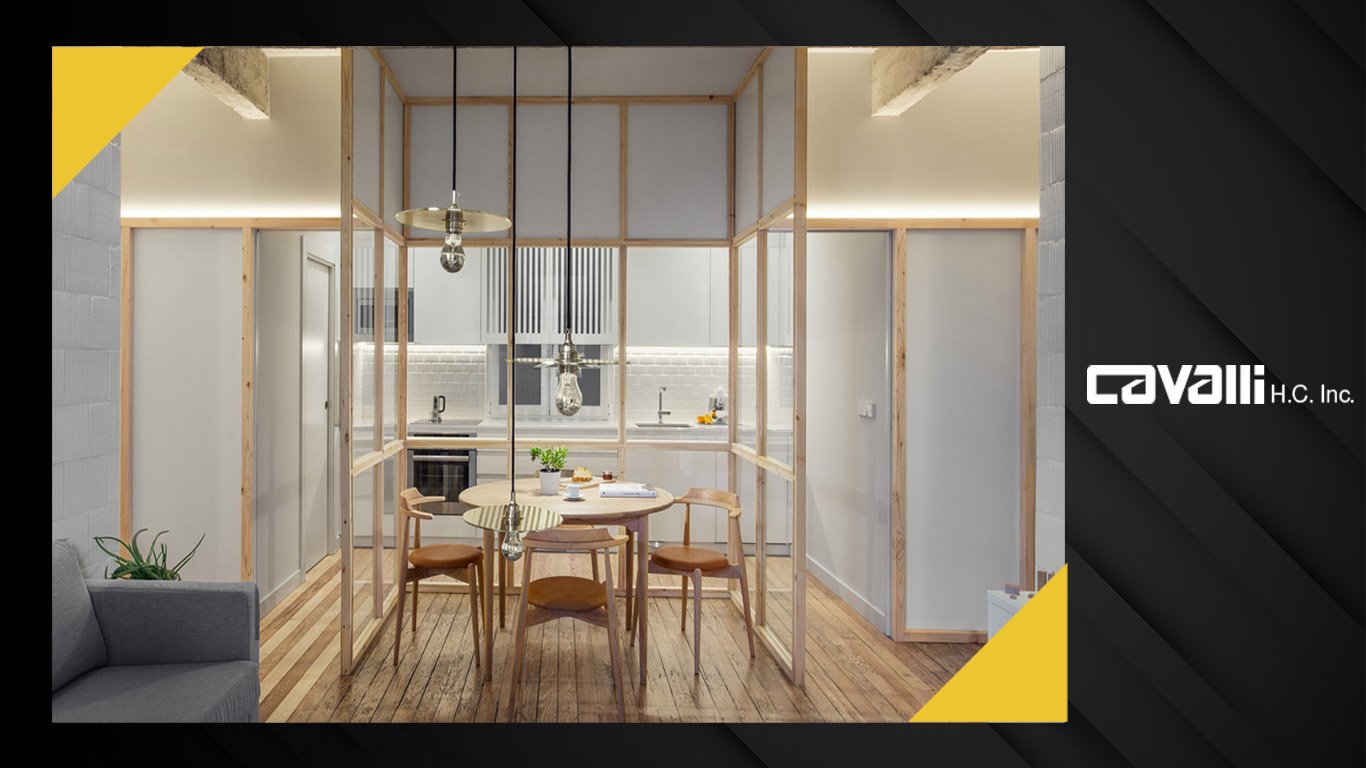 The features of the cast in situ concrete slab
Their thickness varies from 80mm to 100mm.
The reinforcement consists of BRC fabrics or mild steel bars, which are placed in the center of the wall thickness.
M15 is the most common concrete mix used in construction (1:2:4).
These concrete partition walls are stable, rigid, and strong in horizontal and vertical directions. However, their framework is expensive.
The features of precast concrete slab partitions
The thickness of precast units varies from 25mm to 40mm.
Precast concrete slab units are used for wall construction.
Mortar is needed to fill any joints.
Precast posts are necessary to secure precast modules.
Glass partition wall
Glass divider walls are affordable, lightweight, easy-accessible, beautiful, and offer high privacy. Moreover, they are easy to clean and maintain, moisture-proof, sound-proof, and warmth-proof.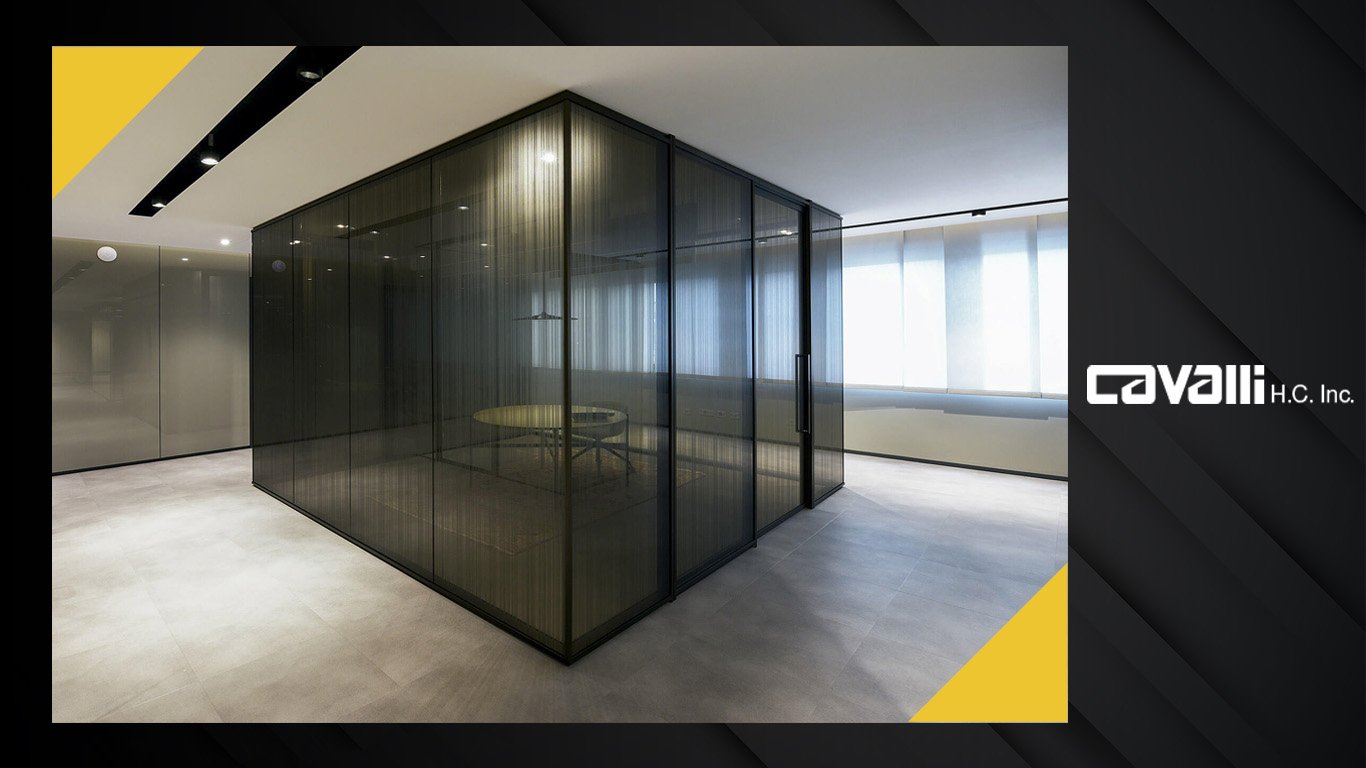 The features of the sheet separator wall
A wooden structure is required to hold a glass sheet in place during construction.
Depending on the person's preference, the panels can be square or rectangular and vary in size.
Glass sheet partition walls are sound-proof, vermin-proof, and lightweight.
Wired glass, bullet glass, and three-ply glass are three well-built glass sheets to be employed in partition dividers.
The features of hollow glass block partitions
They are made of hollow glass blocks and are available in different thicknesses, shapes, and sizes. They are also light and translucent glass units.
Square hollow glass blocks are the most in demand. Their size is about 14*14cm or 19*19cm with a 10cm thickness.
The backs or fronts of blocks are either left plain or decorated.
Reinforcement is placed at every course if the block height exceeds 25cm.
The glass block has the other type with end grooves and joggles.
Strawboard partition walls
While there are numerous moving partitions, strawboard separator walls are helpful. They consist of hardboard or compressed straw-covered thick paper. They are also heat-proof, sound-proof, and easy to build.
Plaster slab separators
Plasterboards or slabs consist of plaster of Paris or burnt gypsum, which are combined with fibrous materials like sawdust to lessen the weight.
Every plaster slab prepared in an iron or timber mould is 1 to 2m long, 30cm high, and 50mm to 100mm thick.
To create a rigid joint, they are equipped with the proper grooves.
They do not need a plaster framework, and their surface can be left smooth or rough. However, the rough surface serves as a key for the plaster.
Metal lath divider wall
They are durable, fine, narrow, skinny, sturdy, incombustible, and need steel or timber framework.
Metal partitions are strong, thin, durable, and fire-resistant.
You need to apply plaster to both sides of the metal.
Wooden partition walls
Wooden partition walls are incredibly light and easy to build, but they are neither fire-proof, sound-proof, nor damp-proof.
Please note that:
They are not proper dividers for dam regions.
They are easily prone to insect infestation and rot.
The other types of partition walls
Lumber partitions: They are non-combustible and need a wood framework. They consist of a rigid, strong arrangement of timber members.
Wood-wool separators: These partitions are constructed of extended tangled wood fibres that have been bound and coated with plaster or cement. Their rough and uneven surface makes plastering exceedingly easy. Moreover, they are sound-proof and heat-proof.
A.C sheet or G.I sheet partition walls: They are light, durable, impervious, watertight, and fire-proof and are made of asbestos cement or galvanized sheets attached to steel or timber structures (framework).
The bathroom glass partition
Three types of glass are suitable for bathroom partitions:
Tempered glass for partitions and shower doors
One of the best bathroom glass partition ideas is to use sleek, modern, luxurious, and tough glass enclosures.
Moreover, one of the best ways to prevent slipping is to use tempered glass in shower doors, partitions, cubicles, etc.
Frosted glass for shower enclosures and windows
Frosted glass is the best way to provide privacy without sacrificing the look. Due to their nature, they are the best choice for shower enclosures, bathroom windows, and partitions.
Lacquered glass for shelves and cabinets
If you want to add some color to your bathroom, the best way is to choose lacquered glass. Lacquered glass is a colorful glass with long-lasting and high-quality hues, used in cabinets, shelves, and other minor installations to create a stunning look.
Operable partitions
Operable partition walls are one of the most popular types of shifting partitions. They are suitable for quickly enclosing or partially opening the area.
You can find them in many finishes, like metal, wood, different veneers, glass, or recycled materials.
The advantages of operable partitions
Easy assembly: Their installation is easy. Although they may cost more, they will significantly save thousands of dollars on the final cost of construction. Moreover, if you want to remodel the layout later, there is no tough task left ahead of you.
Sustainability: They are long-lived, recyclable, flexible, and easy-to-relocate with long-lasting panels.
Different designs: You can find them in various finishes like metal, glass, many veneer styles, wood, etc.
Noise management: Acoustic operable wall systems are sound-proof, so they are the best choice for office dividers.
FAQ
What are the best materials for modern partitions for the living room?
The best materials for sliding room dividers are rattan, bamboo, metal (like aluminum), glass, and wood.
How much does a room divider wall cost?
The total estimated cost of partitioning is about $2,100 to $3,500. This amount is considerably less than the money that most homeowners spend on remodeling projects like bathrooms or kitchens.
What are office partitions?
Office partitioning is the best modern way to separate the office for the workers' benefit.
There are various office dividers, including portable office partitions, cubicle partitions, aluminum partition systems, glass office partitions, etc.
Finally,
With years of experience in partition walls, Cavalli Home provides a wide variety of high-quality partitioning options for your workplace, living room, etc.
Contact us now if you have any questions about partitioning. Remember, we will be there to answer all your questions and give you the best guidance and recommendations.