Millwork in the past referred to any decorative wood mill-made material used in construction. Today it can include any alternative products such as plastics, synthetics, and wood adhesives. In other words, most mill-made products are now a combination of wood and synthetic materials like melamine-coated shelving that are used to create a specific design in a room or building, interior or exterior. They serve as either decorative or functional elements of a building.
In the following, you will learn more about mill-made products.
Different Types of Mill-made Manufacturers
There are two types of manufacturers of mil-made products:
Stock casework: they are low-cost trims and other building elements produced by commodity fabricators in mass production.
Custom millwork: These products are typically more expensive and produced for individuals or individual construction projects.
Both types have advantages and disadvantages, and which type you use will greatly depend on your project. Mass-produced products have two subcategories:
Applying the AWI Standards to the materials.
Don't apply the AWI Standards to the materials.
The latter are regularly low-priced and bulky, produced for limited spaces and sizes, designed for more residential-type applications, and found in big box stores. It means the product's quality might not meet your expectations, and the design may not suit your taste and specifications. While products that pass AWI standards tests may still be limited in size, they will typically have better quality at a reasonable price.
Custom-made products are costlier because of their superior workmanship and higher-quality materials. These types of products can suit clients' tastes perfectly.
 Uses
Mill-made materials used for the building's exterior, such as doors and windows, increase energy efficiency, impact-rated fire resistance, and reduce sound transference. Interior mill-made products are commonly used as a decorative feature, but will often have additional benefits like storage, soundproofing, and privacy.
Millwork Drawings
Mill-made drawings are used in concrete construction & interior décor and are ideal visualization tools for a project's architectural representation. They are applied in several domains to provide a comprehensive format for each unique project.
Different Types of Millwork Drawings
Architecture: mill-made drafting can interpret the architectural plans of a construction site. Drafting firms create detailed drawings for elevations, fixtures, sections, plans, etc., using state-of-the-art tools and techniques.
Millwork Furniture: These drawings are used by carpenters, contractors, fabricators, and others when producing customized furniture according to the interior plan of a property. Mill-made drafting can simplify a complicated project for commercial buildings.
Fixtures in stores: mill-made drawings can be used to design retail spaces, fixtures in stores, malls, and so on to help the interior designers work efficiently based on the plan. Moreover, these clear drawings can make any changes very quickly.
Creating parametric views: There are great tools that provide a parametric view of mill working, meeting the client's needs.
Floor plan: One of the best ways to interpret the decorations and dispositions of different elements in floor plans is by using mill-made drawings.
Isometric and cross-sectional product drawings: The service can also help users determine the physical attributes of three-dimensional objects.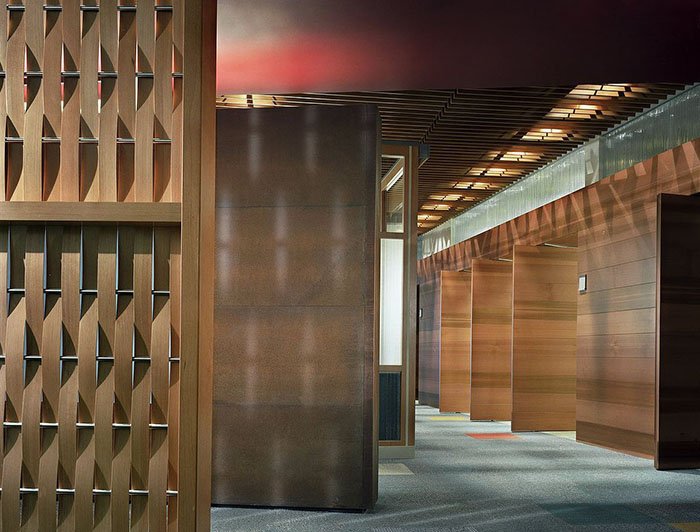 Wood Casework vs. Millwork
In the woodworking industry, casework refers to wood cases or boxes, including kitchen island drawers, bookcases, built-in cabinets, and other storage cabinetry. The parts can be partially pre-fabricated and then assembled later on-site, like the pre-manufactured fitted kitchen.
Millwork means woodwork fabricated in a mill. The term refers to any type of item like doors, panels, moldings, and trims. In fact, casework is a type of mill-made fabrication.
Differences Between Casework and Millwork
Production
Mill-made production is limited and unique since they are made to the client's specifications. However, wood casework is a mass-production based on standard measurements, designs, and materials.
Price
Generally, casework has a more affordable price due to its mass production. They are usually sold as flat-packed or pre-assembled furniture.
In comparison, mill-made products are costlier since they're custom-made. Moreover, for their installations, woodworking professionals are needed, so labor costs should also be taken into account.
Fit
Since wood casework is usually made based on a set of standards, it might not fit perfectly into your place. For instance, if you are seeking book storage underneath the stairs, a ready-made bookcase on the market would not probably fit into your space.
By contrast, mill-made products can be seamlessly integrated because they are fabricated based on the client's space size.
Installation Time
A mill-made product has a longer installation time because the designer of woodworking needs some time to take note of the space dimensions and geometry and then translate all the measurements into technical diagrams or drawings.
Casework, on the other hand, is usually pre-fabricated, so it doesn't need certain measurements or professional installation.
Architectural Drawings
Typically, millwork construction pieces depend highly on architectural design style, technical drawings, and precise diagrams to accurately produce pieces.
Wood casework, on the other hand, is built based on a set of predetermined measurements, meaning it doesn't heavily rely on architectural drawings. However, for those QCP-certified case working, detailed shop drawings are required, and they must meet the required AWI Standards for wood casework.
The Final State of the Product
Once the final products have been installed, they cannot be easily removed or changed. Therefore, mill-made products always refer to permanent pieces of furniture. However, casework pieces will sell in semi-complete or modular form, so they are actually temporary products, which means you can move pieces out.
Differences Between Millwork and Carpentry
Millwork and carpentry include the design and construction of cabinets, wood structures, shelving units, and furniture.
The cabinetmaking stream (mill-made products) refers to the construction of both upper and lower casework, moldings, and hardware, complete with doors, drawers, hardware, moldings, and exposure to different materials used in the market.
The carpentry stream, on the other hand, refers to residential home construction in the foundation, framing, and finishing carpentry.
FAQ
What are examples of millwork?
Mill-made products include pieces like molding, doors, and windows, stair banisters, trim pieces, and more. In other words, it is one of the construction elements used by designers or architects to add character and beauty to a structure.
What is an interior millwork design?
It refers to all the design details that give a home a magnificent custom look while complementing the overall architectural design. Interior doors, finished trim work, crown molding, wainscoting, and board & batten are all examples of interior millwork.
The Cavalli home is one of Toronto's best designer millwork that will exceed all of your expectations. If you have any questions about our services or products, please feel free to contact us. Our professional teams will respond to all questions and concerns in a very short time.